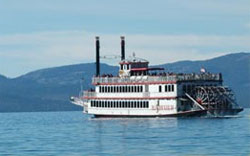 Boating Tahoe & Comstock Tours >
Join Sierra Adventures to explore and savor the unparalleled beauty of Lake Tahoe and learn about Nevada's exciting wild west history.
Intro: An exciting, educational, adventure discovery of the Sierra, Lake Tahoe and Nevada. This expedition is a must for those interested in archaeology, photography and Nevada history. Lake Tahoe is one of the highest, deepest, coldest and most beautiful lakes in the entire world. If emptied, Tahoe's waters would cover the state of California with 1 1/2 feet of water and take 700 years to refill. Creation of this landscape began after the disappearance of the last dinosaur – about 10 million years ago. This fascinating era was a tumultuous geologic period that included tectonic plates movements, continuous powerful earthquakes and volcanic eruptions. Slowly, the imposing granite Sierra Nevada mountains began to thrust upward from far below the earth's surface. Later in this period, lava flows, followed by a period of huge glaciers, began a process that formed the Tahoe Basin. The basin filled to 600 feet over today's levels. The first humans in the basin were the peaceful Washoe Indians, arriving about 10,000 years ago. Relax as you cruise quietly and serenely upon pristine waters. You can gaze though panoramic windows with spectacular scenery, or explore the crystal clear waters from the deck while basking in the warm sun. Sierra Adventures can take you right from your hotel bell desk.
The Tour: Your paddle boat adventure begins with a complimentary shuttle pickup at any local hotel. Your shuttle will whisk you along "The most beautiful drive in America." On the way, you'll have picturesque views of the beautiful Sierra and Lake Tahoe, the opportunity to view scenic trails, and possibly catch a glimpse of some wildlife! Your guide will answer questions about Lake Tahoe, the Sierra and Nevada as you descend into the Lake Tahoe Basin. On the return to Reno, we narrate through the rich Nevada history, including the Comstock Lode, Virginia City, and Nevada's future.
The Cost: Pricing is structured by group size, length of activity and type of tour. Packaged price includes planning, equipment, transportation, guide service, food and beverage, and any tickets required. Go to the Sierra Adventures price list for the latest information, then pay a deposit to secure your trip.
Dates and Restrictions: Activities offered by Sierra Adventures are subject to seasonal restrictions, weather cancellations, and your physical limitations. Call our toll free number - (866) 323-8928 - for more information. Remember to include your email and/or fax number so we may provide package updates, blackout dates or specific information related to your adventure.
Suggested Clothing and Gear: Parka / Sun Glasses / Binoculars / Camera / Sweats.